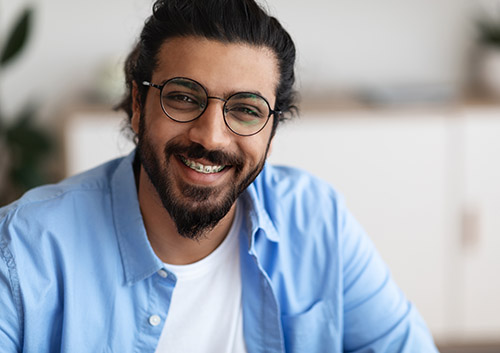 Maybe you've wanted braces since childhood. Maybe you had them, but your teeth have shifted over time. Maybe you're tired of living with an uncomfortable bite. Good news! If you're not happy with your adult smile, that doesn't mean you've missed the opportunity to have the healthy, attractive smile you've always dreamed of.
While there are many benefits to having orthodontic work done as a child, there's a lot to be said for orthodontic treatment as an adult. After all, you know exactly what you want. You're dedicated to following your treatment plan. You have plenty of discreet orthodontic options available now, from clear aligners to lingual braces, to make your treatment as inconspicuous as possible.
But, on occasion, adult treatment does come with some adult baggage. Worried about your crowns, fillings, or veneers? If these restorations are part of your dental history, we can generally work with them. Dental implants? Those might fall into a slightly different category.
Implants are a great way to restore your smile because they function like your natural teeth. They are designed to look just like natural teeth, and they allow you to speak, chew, and bite with confidence. Implants even stimulate the jawbone when we chew just as natural teeth do, helping to prevent bone loss in the jaw as we age.
But there is one important difference between implants and natural teeth: implants are firmly anchored in the jaw, while your natural teeth can change position.
Why is this a concern? Because tooth movement is one of the basics of orthodontic treatment. Unlike implants, our teeth aren't firmly anchored in our jaws. They are held in their sockets by a ligament which cushions them and connects the tooth to the bone.
When braces or aligners gently apply consistent pressure to the teeth, the ligaments and eventually the bones holding the teeth reshape themselves in response to this pressure, and then become stable again during the retainer phase of treatment.
Implants, on the other hand, are crowns attached to a metal cylinder or screw that is surgically implanted into the jawbone. After several months, osseointegration takes place—which is a technical way of saying that the metal base fuses with the bone. This means that there won't be any movement taking place—good when you're chewing, but not helpful for realignment!
If you haven't yet replaced a missing tooth with an implant, it's often best to wait before starting orthodontic work. We can design treatment around a missing tooth, leaving room to accommodate an implant in just the right spot when your orthodontic treatment is finished.
If you have an implant already, the placement of your implant will help determine your treatment:
If your implant is already perfectly placed for your future alignment, braces or aligners can be designed to work with and around your implant.
If the placement is almost ideal, you might find a very small degree of misalignment acceptable, and we can plan your treatment around your existing implant.
If it's not possible to work with your implant where it's presently located, it is possible to remove an implant. You would then have the implant procedure redone after your orthodontic work is complete.
Talk to Dr. Joseph Brogan about your treatment possibilities. By analyzing your orthodontic goals and working with your dental history, we can let you know exactly what can be done for your teeth and bite—even if you have an implant.
True, there are many benefits to having orthodontic work done in your childhood, but there's a lot to be said for orthodontic treatment as an adult. And the greatest benefit of all? You'll finally have the healthy, self-confident smile you've always dreamed of. Talk to our Philadelphia, PA team about making that smile a reality.